The future of menstrual care is here.
The Menstrual Neuromodulation Headband is a breakthrough in women's health technology. Experience life-changing improvements in pain, mood, and cognitive function in just 20 minutes a day.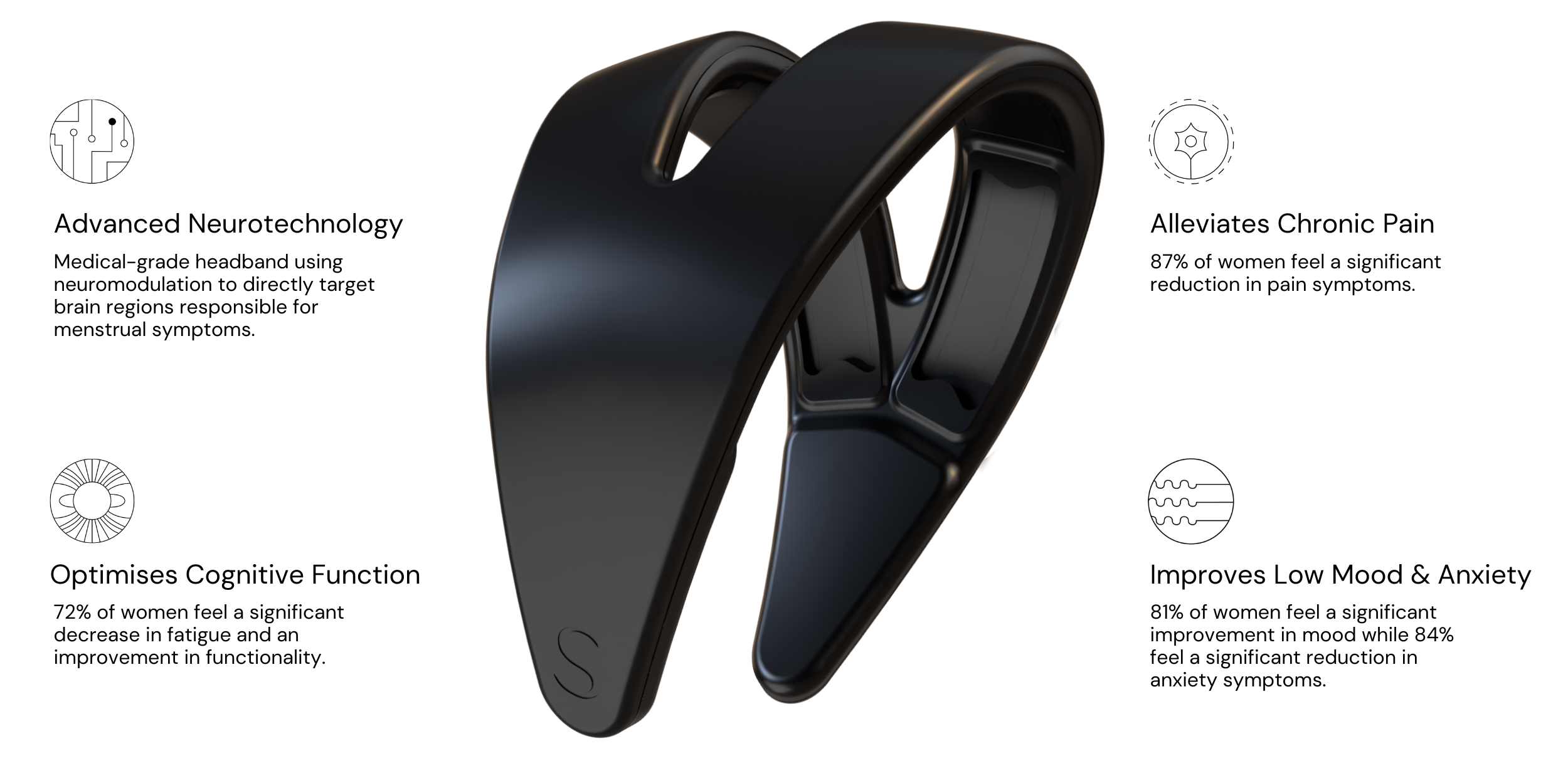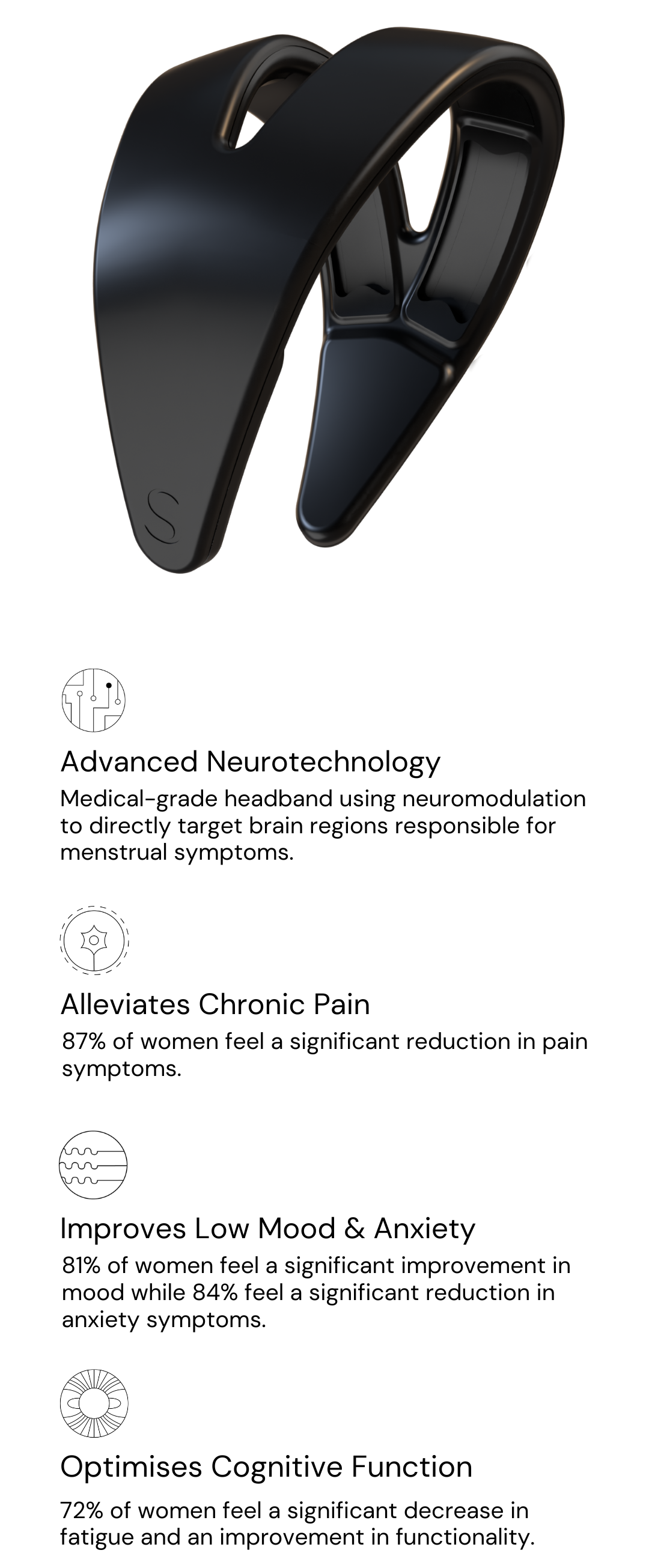 Non-Invasive Brain Stimulation
Menstrual Neuromodulation Therapy employs transcranial direct current stimulation (tDCS) to administer safe and small electrical pulses to specific brain regions. This non-invasive neuromodulation technology is clinically proven to promote neuroplasticity and alleviate symptoms of chronic pain, depression, and anxiety.
Our proprietary neuromoduolation technology was built specifically to solve the unique combination of mental and physical symptoms women feel as a result of their menstrual cycle. It offers the world's first medical-grade drug and hormone free solution to PMS, PMDD, PCOS and endometriosis.
Support your journey with the Samphire app
CYCLE TRACKER
Track your cycle with precision and state of the art security. The Samphire app keeps you on track with using your Headband, and helps you monitor the progress of your symptoms for a personalised experience.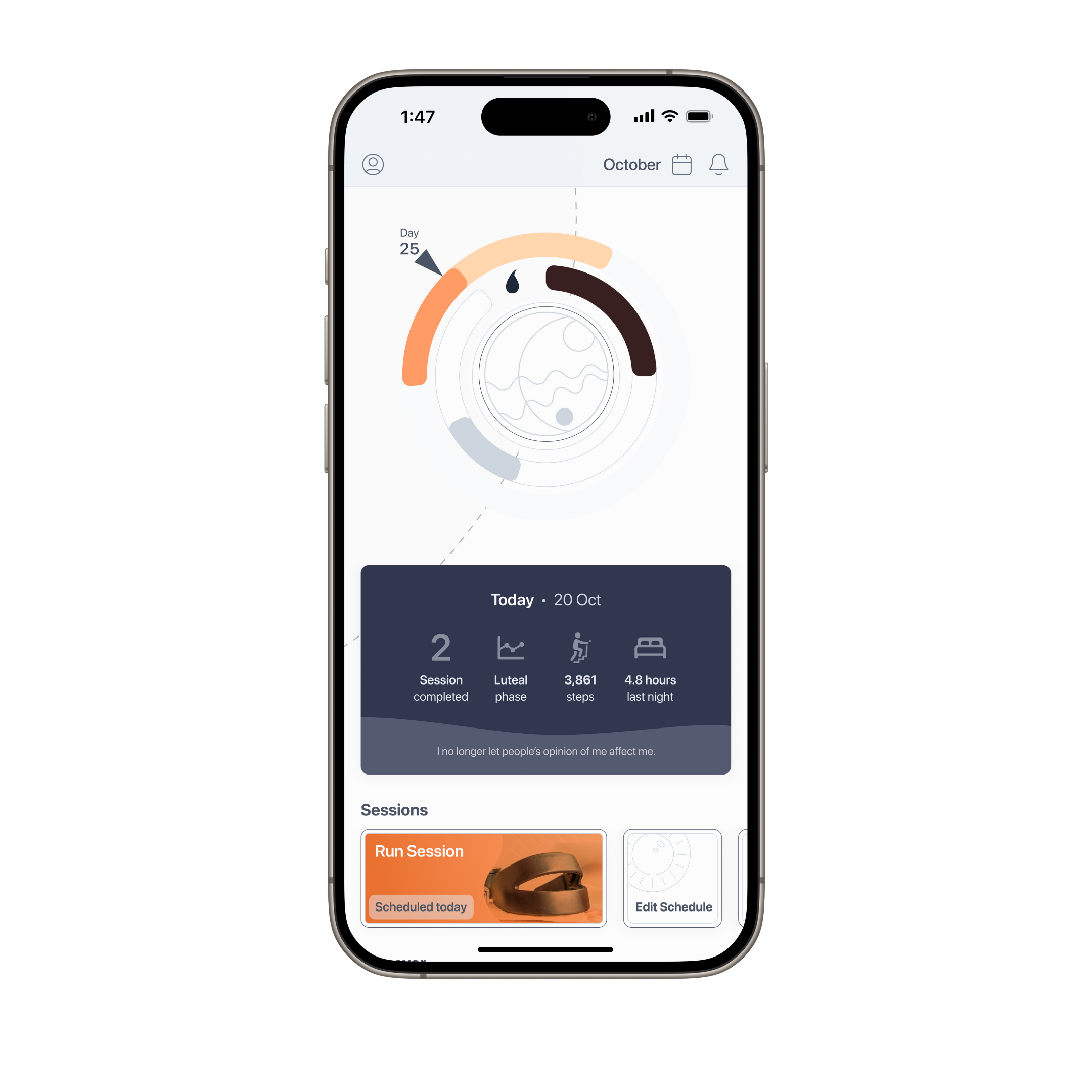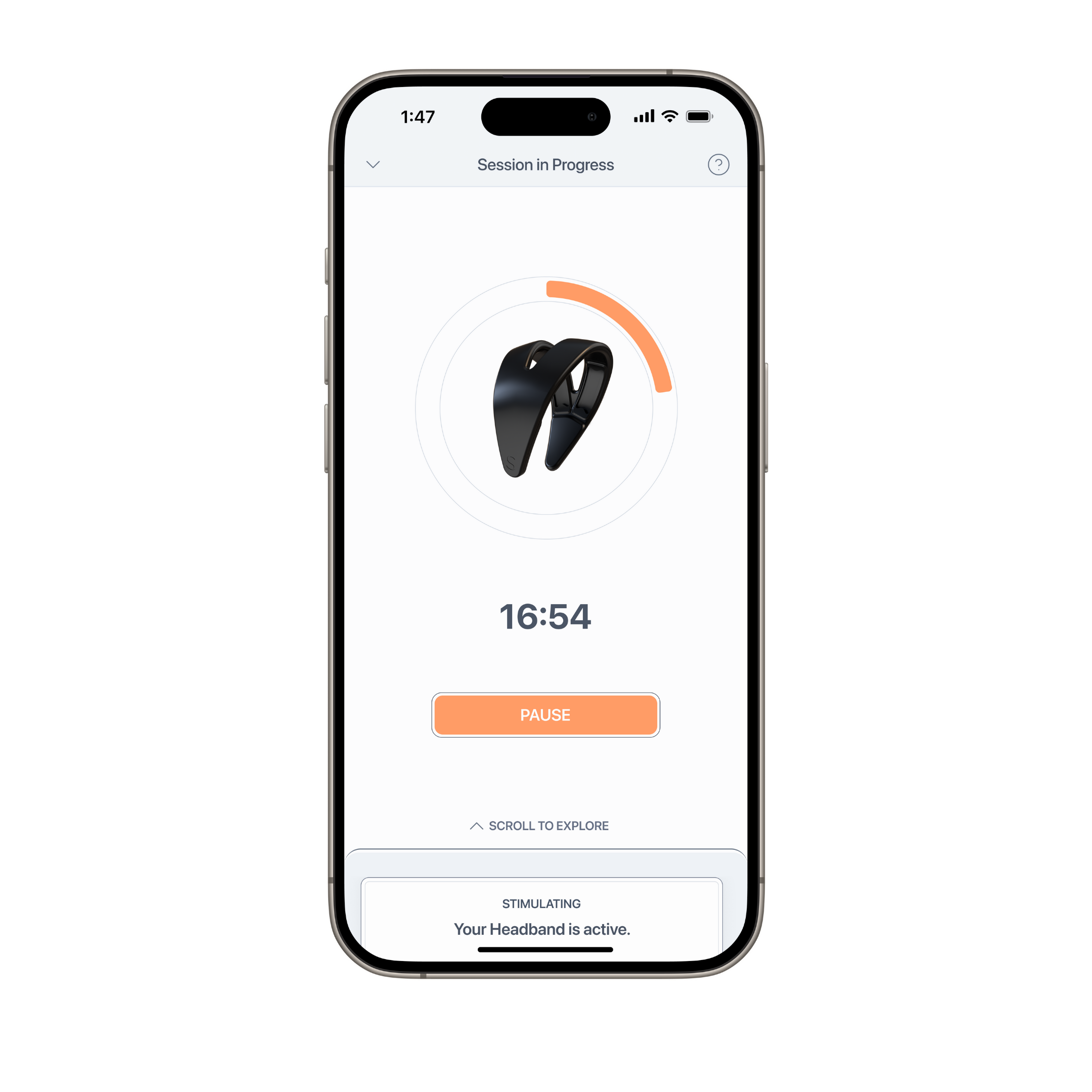 RUN A SESSION
Control your bluetooth enabled headband through the app and run your 20-minute sessions with ease. The app's remote control functionality ensures seamless operation, timing each session and notifying you upon completion, offering guided, effortless control at your fingertips.
BRAIN HEALTH
Enhance your neuroplasticity with our in-app meditation, breathwork, yoga or mindful reading. Each tailored to accompany headband sessions, enhancing your path to a balanced brain and harmonious menstrual cycle with integrative support.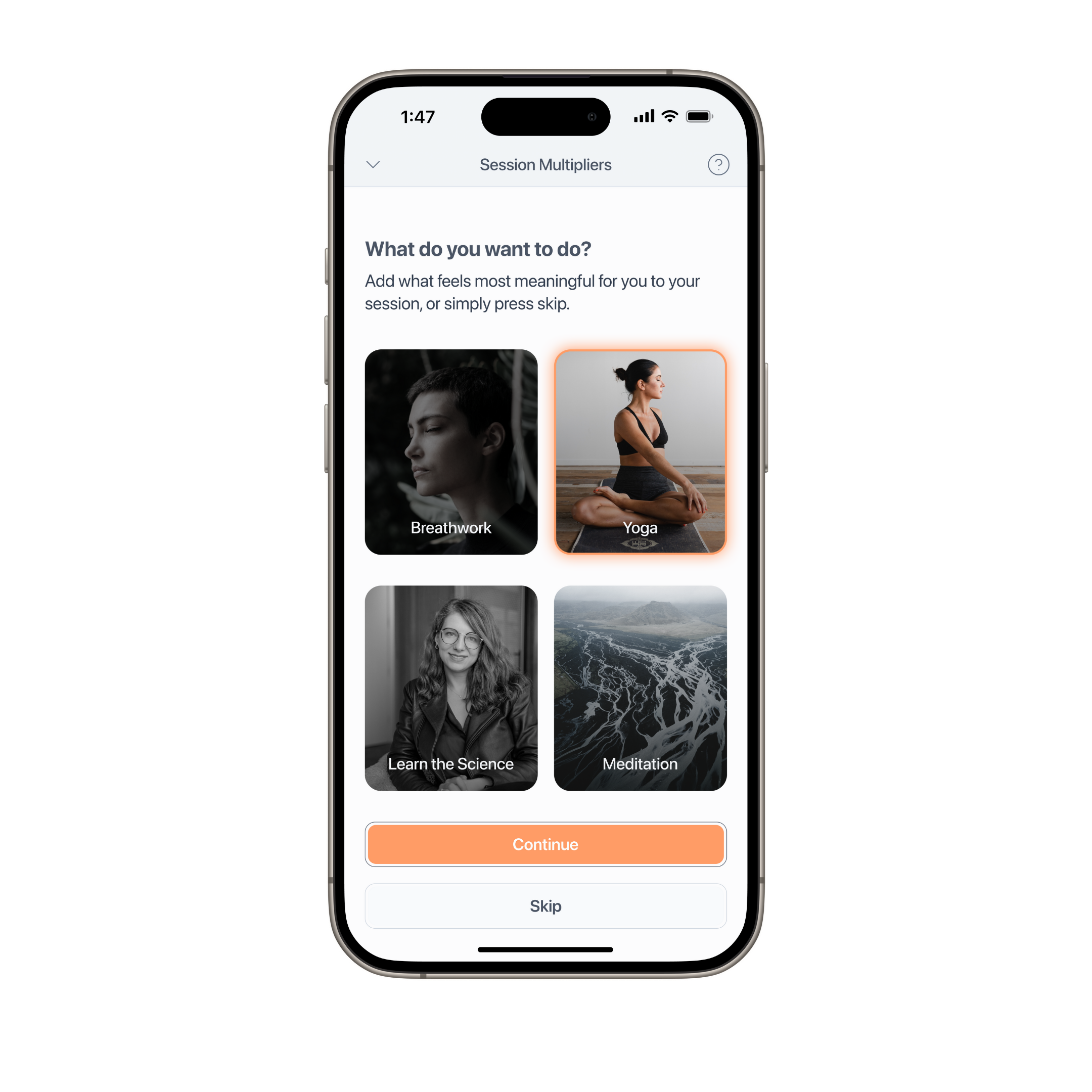 When will you feel a difference?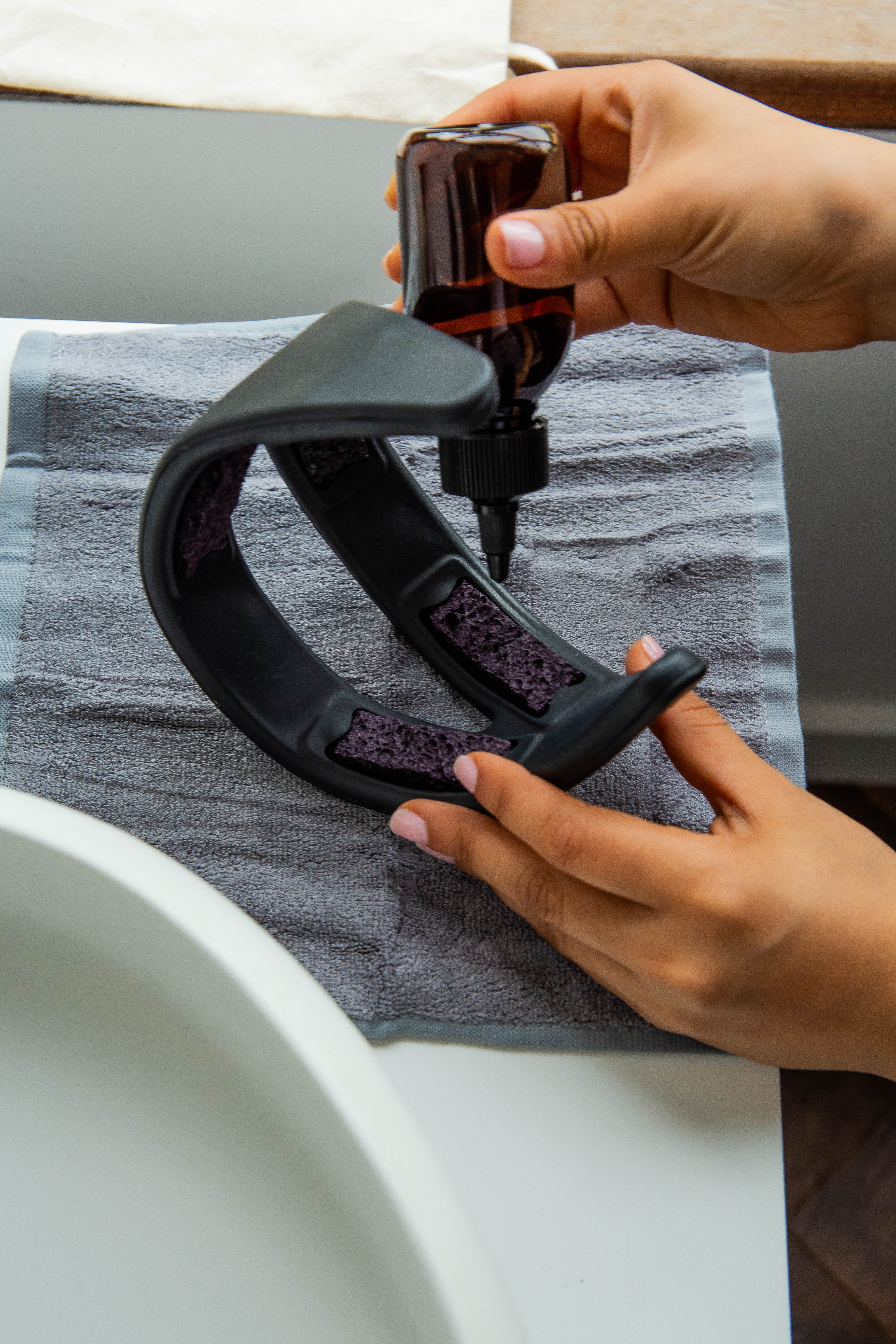 First Cycle
Start using the headband 5 days before your period for just 20 minutes a day.
After each session most users notice improved mood, reduced anxiety, and improved sleep quality.
On day 1 and 2 of their period most users experience a noticeable reduction in cramps.*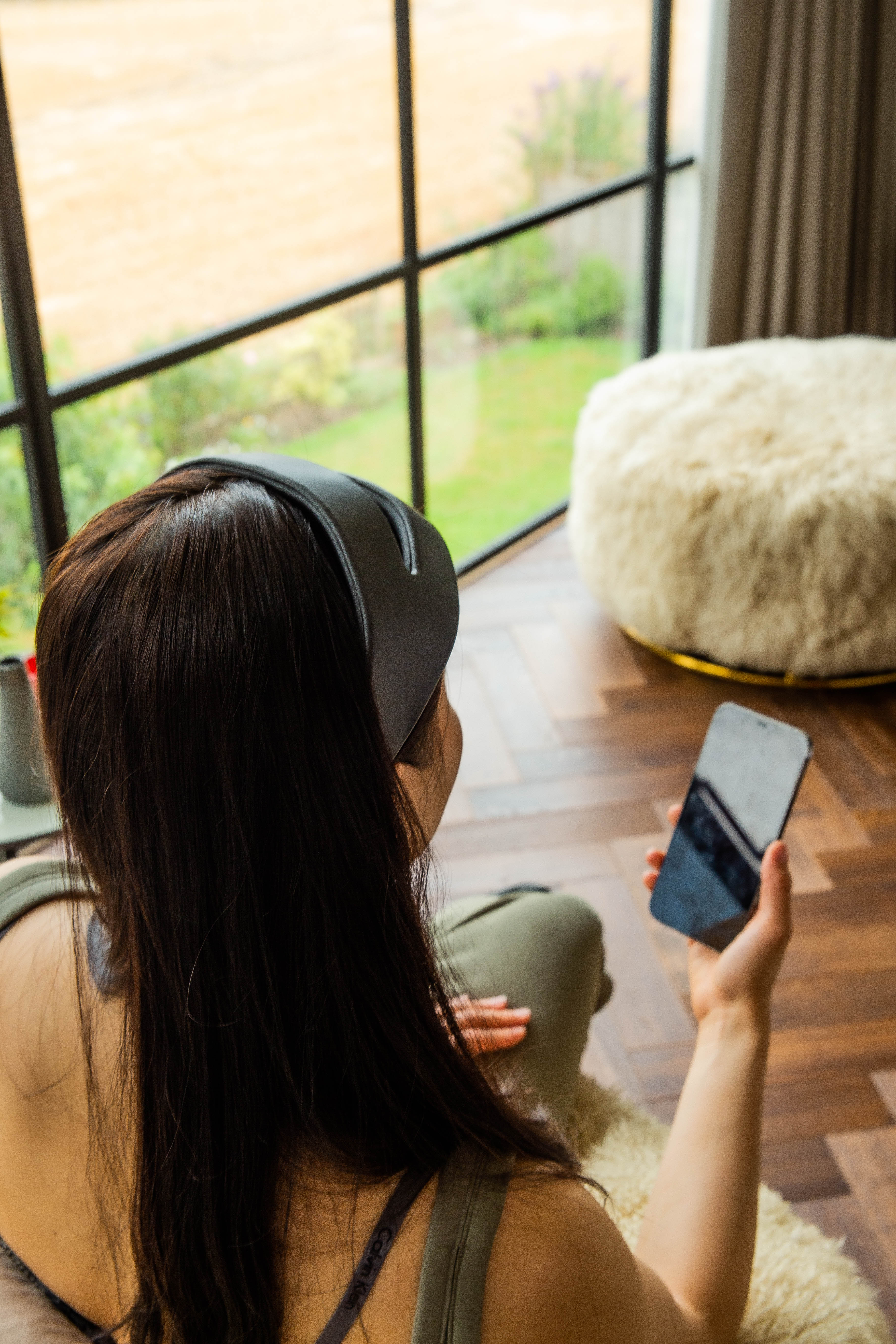 Second Cycle
Continue to use the headband 5 days before your period for 20 minutes a day, getting more comfortable with headband and the Samphire app.
Further reduction in symptoms, a majority of those who didn't benefit in cycle one start feeling the positive effects on mood here.*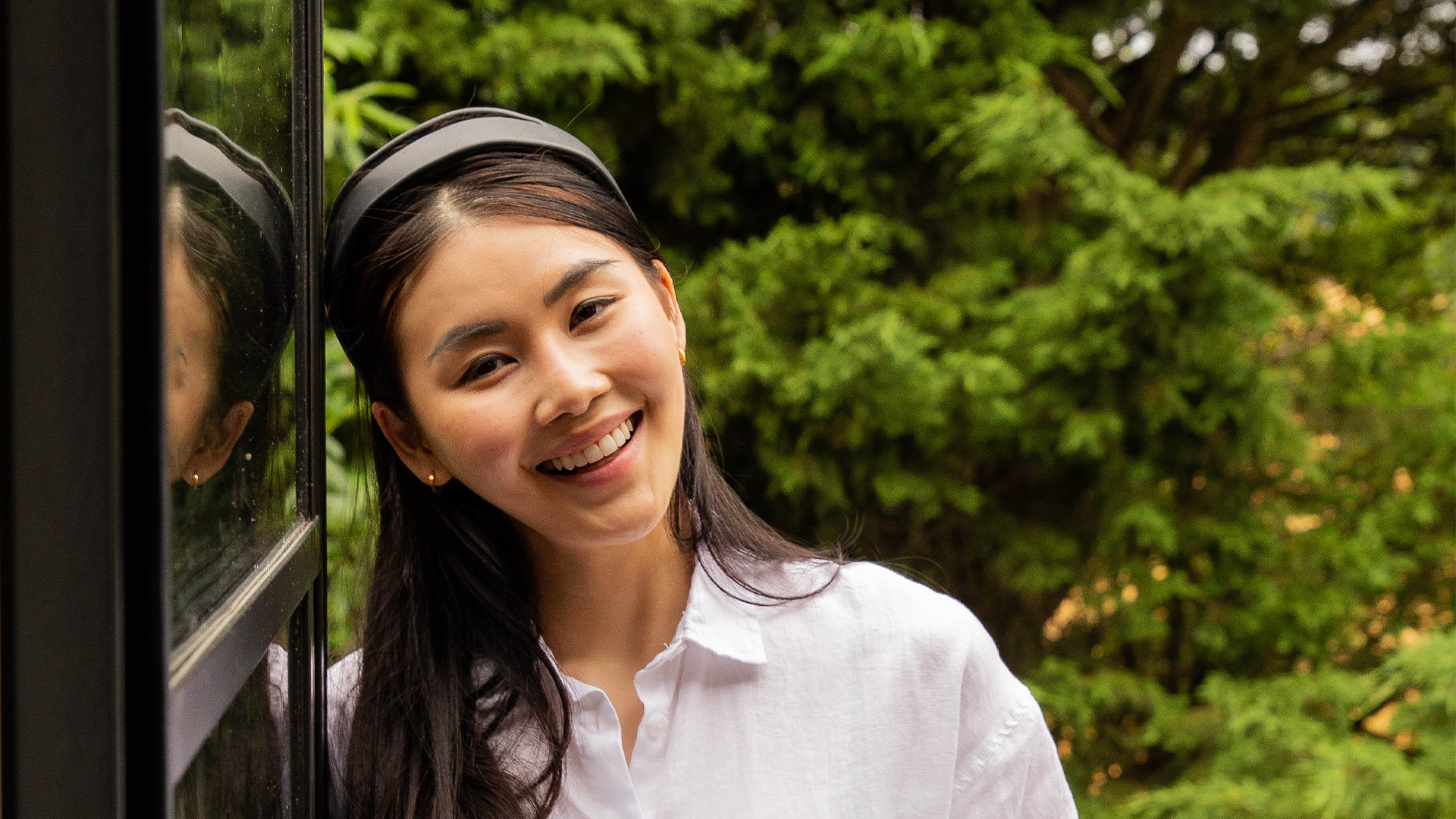 Third Cycle
Using the headband becomes a regular part of your menstrual care routine, especially as the app better understands your cycles.
By your third cycle, you should expect to receive the heaband's maximum benefits, which will continue with use. Many women report a complete transformation in their quality of life.
*To learn more about the clinical studies behind Menstrual Neuromodulation Therapy head to our Research page.
Hear what our users have to say
"It's given me the freedom i've never had"
"Samphire's headband has really helped me to be more in control, both mentally and physically. It's allowed me to have way more freedom during my period, something I never had. I used to plan my days according to my period, but since I've started using the headband, I actually don't do this anymore. I never thought I'd feel myself during these days, it's honestly like magic."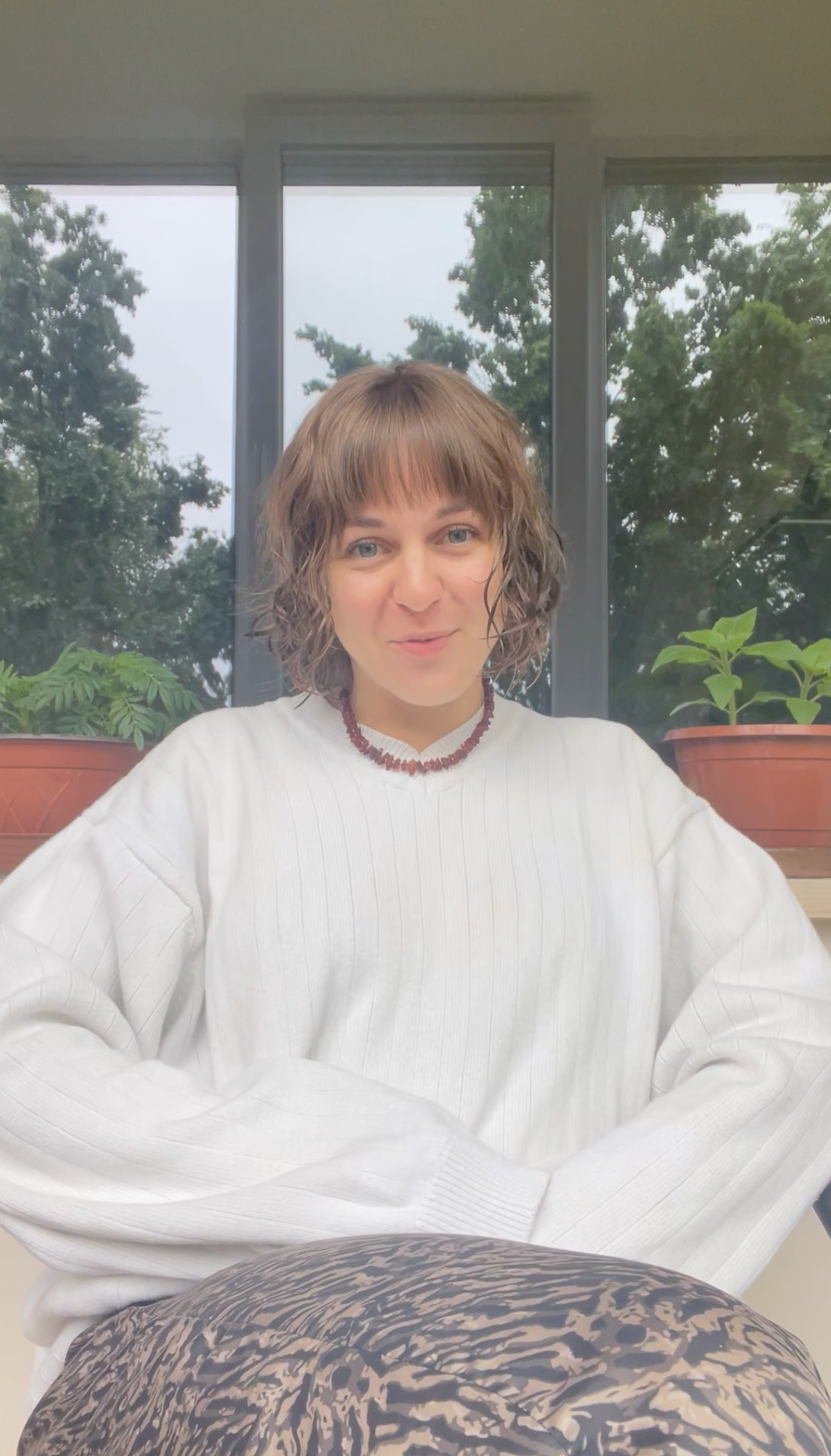 How we compare to traditional treatments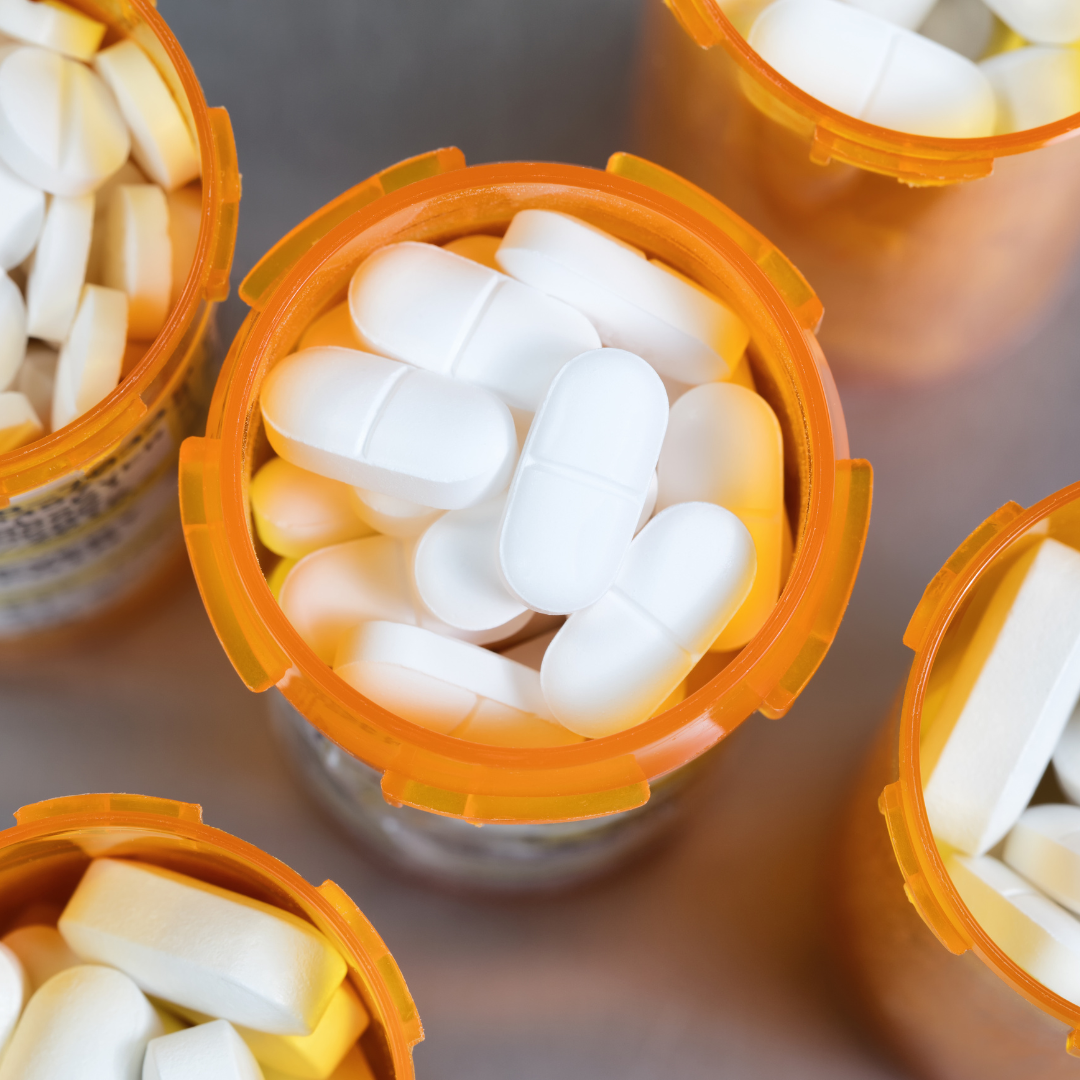 Anti-Depressants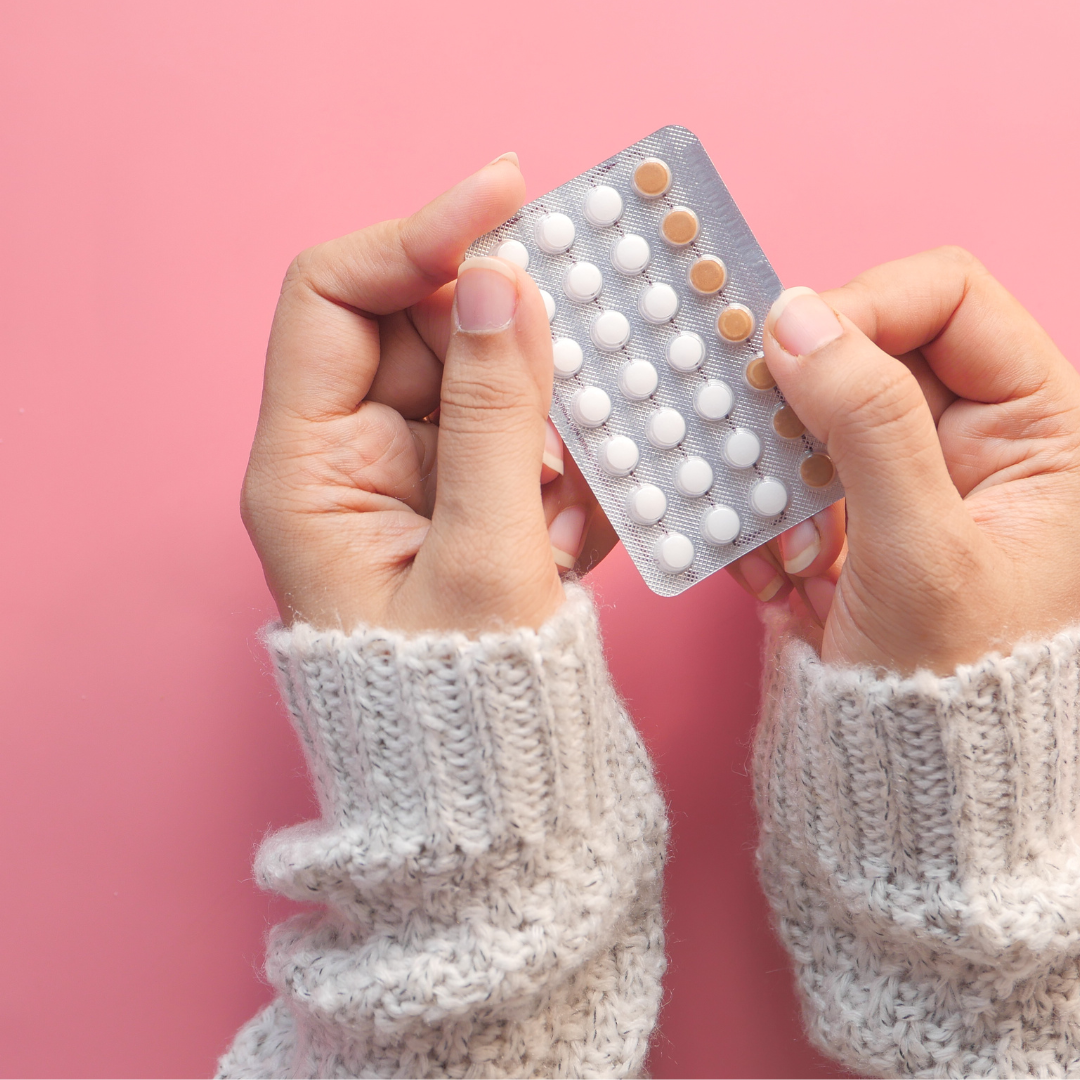 Hormonal Contraceptives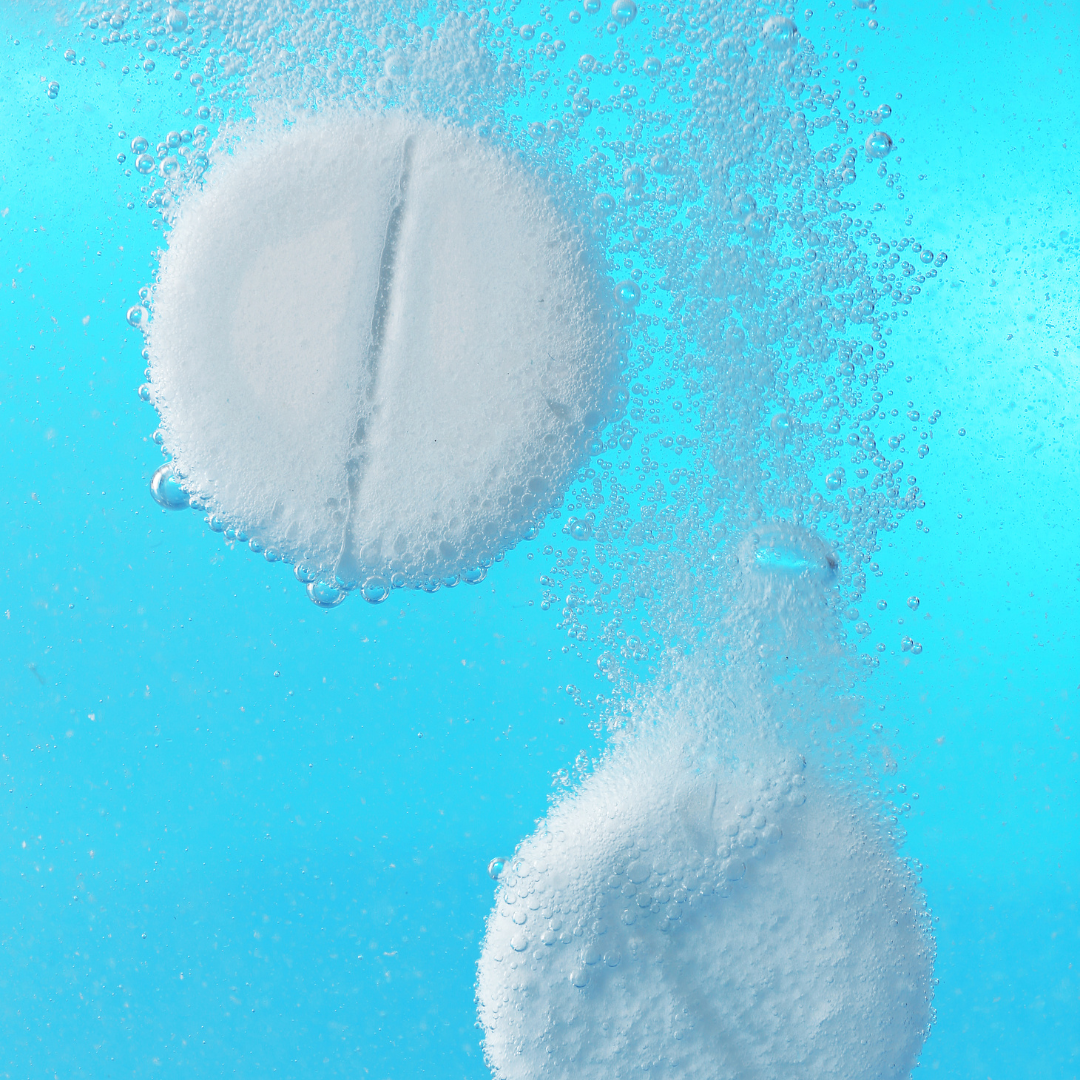 OTC Painkillers
*This is a medical grade treatment that will NOT work for everyone. However, Menstrual Neuromodulation Therapy is clinically proven to be more effective than anti-depressants and SSRIs, while offering zero adverse side effects.
Backed by 8,000+ peer-reviewed research papers
Development and testing of a novel IoT consumer tDCS device for the treatment of primary dysmenorrhea
E Radyte, et al., Brain Stimulation Journal (January, 2023).
Read the Paper
Evidence-Based Guidelines and Secondary Meta-Analysis for the Use of Transcranial Direct Current Stimulation in Neurological and Psychiatric Disorders
F Fregni, et al., International Journal of Neuropsychopharmacology (April, 2021).
Read the Paper
Effects of tDCS for Treatment of Primary Dysmenorrhea: Preliminary Results of a Randomized Sham-Controlled Trial
R Pegado, et al., Pain Medicine (December, 2020).
The technology our headband employs, transcranial Direct Current Stimulation (tDCS) has emerged as a promising way to combat mood and pain symptoms over the past 30 years. Unlike drug and hormone treatments, tDCS can strategically target areas such as the dorsolateral prefrontal cortex and the motor cortex, which play significant roles in mood regulation and pain management. With its ability to modulate brain activity non-invasively, tDCS is already established in alleviating conditions like depression, anxiety, and pain.